MICROBICIDES:
Raising New Barriers Against HIV Infection
Rebecca Spieler Trager
*
A field that suffered a major clinical setback 2 years ago is gearing up for expanded fundraising and product development
A promising but undeveloped strategy for fighting HIV--using topical microbicides to block transmission--seems likely to get more attention in 2003. This would be a welcome change for a field that's been in the doldrums for the past 2 years.

The concept is simple: Researchers hope to create pathogen-stopping gels or creams that can be used before sexual intercourse. They would not be a substitute for condoms, but they might give extra protection at low cost--particularly important in the developing world. And they might offer women a new method of blocking disease that doesn't depend on male cooperation. Although the idea has been around for many years, no microbicide has yet proved clinically effective against HIV. But advocates have reason to be optimistic.

In January, a nonprofit group dedicated to advancing this technology, the International Partnership for Microbicides (IPM), will open its doors in Silver Spring, Maryland. With $30 million in committed support, IPM intends to help evaluate an estimated 50 candidate compounds--at least five of which will be in advanced clinical trials in 2003--clear barriers to testing, and facilitate access to microbicides that prove effective. IPM joins several other organizations supporting research in the area, but it will be the first to focus so intensely on coordinating microbicide R&D and reviewing products.

IPM intends to provide technical aid to public and private organizations, says its CEO, Zeda Rosenberg. She came to IPM from Family Health International, a nonprofit organization in Arlington, Virginia, that spun off IPM. Previously, Rosenberg was a senior scientist at the National Institute of Allergy and Infectious Diseases, a part of the U.S. National Institutes of Health (NIH) in Bethesda, Maryland.

One of IPM's goals, according to Rosenberg, is to bring two or three new clinical research sites on line per year. The IPM staff--numbering four at present, growing to 10 by the end of 2003--has identified several objectives for the first year. It aims to clear bottlenecks--such as problems with ethics reviews required by U.S. agencies--for trials in Asia and Africa, spend $2 million to develop "common resources for product manufacturing," and devote $1 million to recruiting investments in microbicides. IPM aims to raise $130 million for its first 5 years and has already received several major contributions: $5 million from the Rockefeller Foundation in New York City; $8 million in government funds from the Netherlands, $7 million from Ireland, and $1.2 million from the U.K.; and small grants from the United Nations Population Fund and the World Bank. IPM estimates that even a partially effective microbicide could prevent 2.5 million cases of HIV over 3 years, reducing worldwide health costs by $3.7 billion.

Rosenberg says the field urgently needs improved animal models and surrogate biomarkers. "We are really in a data-free zone. ... Right now, we make decisions to move into expensive, large-scale studies without really knowing the likelihood of success."
---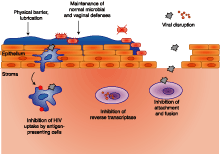 Defensive line. Microbicidal creams and gels are designed to intercept and disrupt HIV in the early stages of infection.

CREDIT: ADAPTED FROM THE SCIENCE WORKING GROUP/THE ROCKEFELLER FOUNDATION

---
Microbicide advocates are hoping IPM and parallel efforts will energize research in the field, which is recovering from a setback in 2000. Studies of a microbicidal preparation known as nonoxynol-9 (N-9), long available in over-the-counter retail products, yielded dismal results. One study by the Joint United Nations Programme on HIV/AIDS reported that an N-9 formulation actually increased the risk of HIV infection in a cohort of 1000 female sex workers in South Africa, probably by creating genital lesions that aided transmission. Lori Heise, director of the Washington, D.C.-based Global Campaign for Microbicides, notes that most of the next-generation microbicide candidates use a different mechanism--for example, creating a barrier to prevent entry of viruses into the cell rather than killing cells.
One of the most promising is Carraguard, the lead candidate of the Population Council of New York City, with funding from the U.S. Agency for International Development (USAID) and the Bill and Melinda Gates Foundation in Seattle, Washington. The product--a gel made from the red seaweed extract carrageenin--has already blocked HIV and three pathogens in lab tests and will enter efficacy trials with 6000 women in Botswana and South Africa in 2003.
Two other products are at a similar stage: BufferGel, an acrylic acid polymer developed by ReProtect in Baltimore, Maryland, and PRO 2000, a synthetic sulfonated polymer owned by Indevus in Lexington, Massachusetts. The two will be tested for safety and effectiveness against HIV in a randomized comparative trial slated to begin recruiting over 9000 women by summer 2003 in Malawi, Zimbabwe, South Africa, India, Tanzania, and Zambia. This trial will be funded by NIH and USAID. Two other microbicidal products are also expected to enter large-scale testing in 2003: Saavy/C31G, by Philadelphia-based Biosyn (with funding from USAID and Family Health International), and Cellulose Sulfate by Toronto, Ontario-based Polydex Pharmaceuticals (with funding from USAID and the Gates Foundation).
So far, microbicides haven't had help from big pharmaceutical companies. As a result, there's no "command-and-control structure" for clinical testing, says Heise. Often, she says, "the people who know how to do this and have the resources to do this are just not interested." Thomas Moench, medical director of ReProtect, agrees: "Large pharmaceutical companies are not willing to invest [but] would like someone else to establish that there is a market here."
That will take time. According to Rosenberg, if the current products poised to enter phase III trials in 2003 were shown to work well and be safe, in the "best-case scenario," the earliest an effective microbicide could be on the market would be 2008-09. "More likely," she says, "this will not happen until after 2010."
---
Rebecca Spieler Trager is an editor for The Blue Sheet in Chevy Chase, Maryland.

Volume 299, Number 5603, Issue of 3 Jan 2003, p. 39.
Copyright © 2003 by The American Association for the Advancement of Science. All rights reserved.