Africa Boosts AIDS Vaccine R&D
Jon Cohen
*
Photos by Malcolm Linton
Efforts have recently heated up in several countries to tailor-make preparations that many believe offer the best hope yet for stopping HIV cold
HLABISA, KWAZULU-NATAL PROVINCE--This lush region of gentle hills dotted with round mud huts that sits on the edge of the Hluhluwe Game Reserve doesn't look like an epicenter of South Africa's AIDS epidemic. But this poor rural area has one of the worst outbreaks of HIV in the world. The figures are staggering: Almost 40% of the pregnant women--a so-called "sentinel population" widely used to track the epidemic--in Hlabisa are infected with HIV. A decade ago, almost none tested positive.
In the sad calculus of AIDS, this makes Hlabisa an ideal place to test HIV vaccines--the best hope Africa has of truly containing this disease. And that was the reason Seth Berkley, head of the International AIDS Vaccine Initiative (IAVI), paid a visit here in late March.
---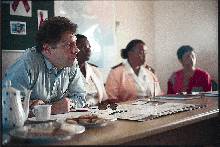 Testing 1, 2, 3. Seth Berkley (left) of the International AIDS Vaccine Initiative meets with community educators who are teaching people in Hlabisa, South Africa, about upcoming AIDS vaccine trials.

---
Concerned that industry has shown little interest in developing an AIDS vaccine for poor countries, the nonprofit IAVI has launched innovative "product development teams" in South Africa, Kenya, and Uganda. Here, IAVI has teamed leading South African AIDS researchers with a North Carolina biotech company; together they hope to tailor an AIDS vaccine by next year for trials in Hlabisa (pronounced shla-bee-sa) and elsewhere in the country. As part of the project, to which IAVI has committed $4.5 million over 3 years, researchers work closely with participating communities.
Today, eight "community educators," whose job it is to lay the groundwork needed to conduct an ethical trial, pack into a trailer that serves as the headquarters of the Hlabisa Research Clinic to meet this boyish and gangly physician from New York. Ethics--something often ignored in the checkered history of medical research in Africa--demand that people who volunteer for the trial do so freely, fully understand whatever risks exist, and receive encouragement and advice about how to avoid becoming infected. These community educators, college-age men and women from the area, go from hut to hut to teach people about vaccines and AIDS, distribute condoms, and answer questions.
Berkley begins by asking the educators, "What's the community saying?"
"They feel positive here," says a university student, who wears a stylish beret. "They think they're going to help stop the epidemic."
"Do they ask any questions that stump you?" Berkley queries.
The educators squirm a bit. Berkley asks the question again.
"The one is, 'When are we going to have a vaccine that works?' " a woman answers.
"That's a good question," Berkley replies. The educators laugh. Berkley, who well understands the scientific and ethical challenges ahead, does not offer an answer.
Off safari
Human trials of AIDS vaccines began in Africa. The first test was conducted in Kinshasa in 1986 by Daniel Zagury of France's Pierre and Marie Curie University and his colleagues in Zaire. Ultimately, the trial went nowhere and was widely criticized for being run without the international community's knowledge, involving children, and using unapproved materials in the vaccine. No evidence ever surfaced that Zagury's trials injured anyone or violated Zairian or French regulations, and they did establish that a person could safely develop immune responses against pieces of HIV, which all vaccines contain. But the trials--which triggered media investigations and an official probe by the U.S. National Institutes of Health (NIH), which exonerated Zagury--also put AIDS vaccine researchers on notice that the ethics of the trials they stage, especially in poor countries, would receive intense scrutiny.
No other vaccines were tested in Africa until last year, when Uganda started a small trial to assess the safety of an Aventis Pasteur product, which had already been widely tested in developed countries (see table). Not only have most companies shrugged at the African market, but government agencies such as NIH have opted to conduct initial tests in developed countries, for ethical and practical reasons. "When in doubt with a brand-new candidate vaccine, you'll cause the least stress if you try the vaccine out in Bethesda, Maryland," says Yale University's Robert Levine, a bioethicist who has helped craft two sets of guidelines covering AIDS vaccine tests.
---
AFRICAN AIDS VACCINE R&D
Location
Main collaborators
Sponsors
Vaccine
Comments
Kampala,
Uganda
Makerere Univ., Case
Western Reserve Univ.
NIAID
Aventis Pasteur
Canarypox
Ongoing
Phase I
Nairobi, Kenya
Univ. of Nairobi, Oxford Univ.,
IDT, Cobra Pharmaceuticals
IAVI
Modified Vaccinia
Ankara and DNA
December start
Hlabisa,
South Africa
Univ. of Natal, AlphaVax,
Univ. of Cape Town
IAVI, NIAID,
U.S. Army
Venezuelan
equine encephalitis
Next year?
Kampala,
Uganda
Johns Hopkins Univ.,
Makerere Univ.
NIAID
Canarypox
and gp120
For breast-fed
infants
Uganda
Institute of Human Virology,
Ministry of Health
IAVI
Salmonella
and DNA
Team announced
in May
Rakai, Uganda


U.S. Army,
NIAID
Canarypox
Clade A
Under
consideration
South Africa
Univ. of Cape Town,
Univ. of Stellenbosch,
Nat'l Inst. Virol.
SAAVI
BCG, Modified
Vaccinia Ankara,
DNA, and fungal vectors
Preclinical
Tanzania
Muhimbili Univ.,
Swedish Inst. for Infect.
Disease Control
Swedish
Int'l. Dev. & Coop.
Agency


Cohort prep
Addis Ababa,
Ethiopia
Ethio-Netherlands
AIDS Research Project
Neth. Ministry
for Dev. & Coop.


Cohort prep
Côte d'Ivoire
French cooperation
ANRS


Cohort prep
SOURCES: NIAID, UNAIDS, SAAVI

---
The first of these guidelines, a 1993 document prepared by the Geneva-based Council for International Organizations of Medical Sciences (CIOMS), said initial studies of a vaccine "should be conducted only in developed communities of the country of the sponsor." Levine says the guidelines aimed both to prevent "safari research"--in which researchers bag data in Africa to support licensing of products back home--and to protect more vulnerable populations from early safety studies that could take place anywhere. This year, Levine helped craft new guidelines by UNAIDS, the Joint United Nations Programme on HIV/AIDS, that relax this edict, concluding that developing countries can dive in first if they so choose. "Attacks on [the old guideline] came from low-income countries," says Levine. "They asked, 'Why is it that you treat us so paternalistically?'"
The new guidelines reinforce the CIOMS principle of "equitable distribution," which says communities that participate in trials should have access to the vaccine if it proves effective. IAVI follows that principle by insisting that the vaccines it bankrolls sell for a "very reasonable price," which the nonprofit hopes to regulate. First, IAVI requires companies it works with to reveal production costs and then allows them to make a negotiated profit (10%, in one case). If IAVI deems the company's production costs too high, it can hire a third-party manufacturer.
"IAVI's access to patents and in some cases the manufacturing know-how will certainly be helpful," says Peggy Johnston, who heads the AIDS vaccine program for NIH's National Institute of Allergy and Infectious Diseases (NIAID)--and who previously worked as IAVI's scientific director. But Johnston cautions that even these stipulations do not ensure community access, as it may ultimately involve a tangle of patent rights, with other manufacturers seeking licensing fees.
Success with anti-HIV drugs forced the drafters of the UNAIDS guidelines to confront another contentious issue: No vaccine works 100% of the time, so should sponsors provide the "best proven therapy" in the world to participants who become infected during the trial, or simply "the highest level of care attainable in the host country"? After fierce debate--including fire fights in The New England Journal of Medicine and the U.S. Congress--UNAIDS decided that each country should answer this question for itself (Science, 3 July 1998, p. 22).
Natural immunity
Finding the recipe for a vaccine that works remains, of course, the biggest obstacle facing researchers. Nothing tested in humans to date shows great promise, but even a mediocre vaccine could help. A 1992 NIAID statistical analysis made this point dramatically, showing that over the course of a decade, a 60% effective vaccine introduced today would prevent nearly twice as many infections as one with 90% efficacy introduced 5 years from now.
African studies, particularly in the IAVI-sponsored Kenyan project that Omu Anzala works with (see profile on p. 2166), are turning up critical leads that might help make vaccines work better. Agnes Monifa is providing one such lead.
Monifa lives outside Nairobi in Pumwani, a shantytown of wattle and mud homes with corrugated tin roofs that also has a clinic, run by the collaboration, for sex workers. Monifa, who is 48 years old, says she started in the sex business in 1973. She was one of the first women to use the clinic's services, which freely treats the women's sexually transmitted diseases (STDs) and other health problems. Since 1985, doctors at the clinic have been filling test tubes with samples of Monifa's blood--some of the most interesting blood that AIDS vaccine researchers have ever studied.
Monifa is one of a group of Kenya prostitutes who, despite repeatedly being exposed to HIV, show no evidence of an infection. Inside the dark space of her one-room shack, Monifa, a mother of five, describes the details of her life through an interpreter. On a good day, she'll have 10 customers who will pay 50 shillings--65 cents--each. Monifa insists that men wear condoms, she says, but the evidence suggests otherwise: The clinic has provided her with so many treatments for STDs that, she says, "if I had to buy my medicine, I'd be dead by now." Several close friends, she says, have died from AIDS. To explain her own fate, she turns to religion. "God loves me," she says. Surprise fills Monifa's weathered face when she learns that her blood might help researchers find a vaccine. "I didn't know that," she says. "I'm ready to help people."
In the early days of AIDS vaccine research, most studies focused on antibodies, the Y-shaped proteins that glue themselves to invaders and prevent them from establishing an infection. Monifa has no HIV antibodies in her blood. But the Kenyan team has shown that many "resistant" women who visit the Pumwani clinic have white blood cells trained to kill HIV after it has entered a cell. In part because of this work, several vaccine developers have put an increasing emphasis on stimulating production of these killer cells.
Yet this research also has uncovered less encouraging results. Recently, 10 of the 80 or so "resistant" women in this study became infected--after taking a break from sex work (Science, 11 February, p. 942). This odd finding challenges the robustness of "natural immunity," the phenomenon of immunologic memory that protects people from being infected twice by the same bug. Peter Kiama, a Pumwani clinician, contends that memory sometimes is fickle, requiring repeated stimulation from HIV to maintain immunity.
Fears have surfaced, too, that immunity to one strain of HIV might not protect against another. Logically, the simplest vaccine would train an immune system to defeat the strain of virus circulating in a given community. So IAVI and others insist that designers of vaccines, all of which contain modified forms of HIV, rely on subtypes circulating in the region where they intend to test the preparation. The small Uganda trial launched last year, however, did not follow this dictum, testing a vaccine based on subtype B--the most common subtype in the United States and Europe, but rare in Africa. David Serwadda of Kampala's Makerere University says this decision didn't sit well with some Ugandan researchers. They passed these concerns along to their collaborators. "We said, 'You've got a better negotiating position if you put in a [subtype] that matters to us,' " says Serwadda. Although the Ugandans agreed to participate in that small trial, Aventis Pasteur now is customizing an AIDS vaccine from an HIV subtype circulating in Uganda.
---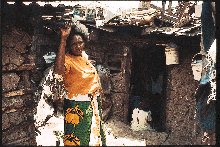 Vaccine lead. Agnes Monifa has been repeatedly exposed to HIV but remains uninfected. Researchers are studying why.

---
NIAID's Johnston, whose institution sponsored the Uganda trial, stresses that scientists still don't know the significance of the different subtypes. "If someone does know," she says, "they have a crystal ball clearer than mine."
The University of Munich's Michael Hoelscher is trying to make the crystal ball a little clearer. He has organized a large, multinational team to study 600 bar workers in Tanzania, where subtypes A, C, and D "cocirculate." Hoelscher says unraveling the success--or failure--of immune responses at stopping a second HIV infection may clarify their relationship to subtypes. "Nobody knows anything about dual infections," says Hoelscher. "It's a totally new field."
Vaccine dreams
Halfway into the meeting of the community educators in Hlabisa, two nurses who work at the local hospital walk into the trailer, taking seats next to Berkley. "If we had a vaccine that worked and was safe, would people take it?" Berkley asks the nurses, Catholic sisters who wear military-style shirts with epaulets. "People would flock to it," says one sister.
"We're all praying for it," adds the second sister. "Our children are dying. Our friends are dying. People 18 years old are lying in hospital beds that in the old days we had filled with grannies who had tuberculosis and cardiac failure. The vaccine would be wonderful. [The situation] is very difficult for young people. This is the time when they should be falling in love, and they say, 'Now that we've come to that stage, you want us to do what you did not do.' "
Berkley thanks everyone for coming to meet with him and for helping to organize an AIDS vaccine trial in this remote corner of Earth. "This is not just a problem for KwaZulu-Natal," says Berkley. "This is not just a problem in Hlabisa or South Africa. It's a problem for the world."
---
* Jon Cohen was accompanied by photographer Malcolm Linton. For a gallery of additional photos and the stories behind them, see www.sciencemag.org/feature/data/aids_africa/gallery.shl.