PROFILE:
McIntyre and Gray Have a Will and a Way
Jon Cohen
*
Photos by Malcolm Linton
SOWETO, SOUTH AFRICA--In an expansive waiting room for pregnant women at the Chris Hani Baragwanath Hospital here, one sign shows a drawing of a pistol inside a red circle with a slash through it. An embossed placard next to a check-in desk reads, "PATIENTS WILL ROUTINELY BE CHECKED FOR AIDS." A flyer taped to another wall by the Perinatal HIV Research Unit states in bold red type, "NO HIV POSITIVE WOMAN SHOULD GIVE BIRTH WITHOUT ANTIRETROVIRAL TREATMENT."
These three signs, each radical in its own way, capture the complicated world where pediatrician Glenda Gray and obstetrician James McIntyre aggressively try to help HIV-infected pregnant women stop the virus from infecting their babies. The international symbol for "no guns" hints at the level of mayhem just outside the razor-wire-topped walls that protect Chris Hani from the infamous shantytown of Soweto. The notice that patients will routinely be checked for AIDS--something that has never been done to whites--is a relic, a reminder of how badly the apartheid regime violated blacks, who make up nearly all of the patients here. And the sign about antiretroviral treatment is not simply a rallying cry but, rather, an amazing offer in a country whose government has declined to provide anti-HIV drugs to infected pregnant women (see p. 2168).
---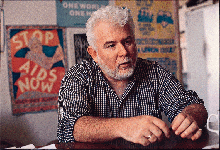 ---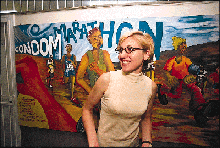 Guerilla health care. James McIntyre and Glenda Gray offer anti-HIV drugs to all pregnant, infected women at this Soweto hospital.

---
At Chris Hani, which suffers the dubious distinction of having more beds (3300) than any other hospital in the world, HIV infects more than 20% of the 17,000 pregnant women who give birth here each year. Gray and McIntyre constantly scout for appropriate clinical trials, new programs launched by nonprofit organizations such as the United Nations Children's Fund and the Pediatric AIDS Foundation, and anyone with deep pockets, which explains how they've managed to stockpile enough anti-HIV drugs to offer free treatment to infected pregnant women. According to McIntyre, 90% of the women they see accept the offer of free HIV testing and counseling, and virtually everyone who tests positive requests treatment. And when informed about the risk of transmitting the virus via breast milk, more than 90% of these women purchase formula that the clinic sells at a discount, says McIntyre.
Gray emphasizes that researchers can make a huge difference simply by applying pressure on drug companies and donors. She notes that UNAIDS even supplied them with AZT and 3TC long after the completion of a clinical trial so they could continue to treat women who had been helped by the drugs. And Gray is livid about her government's lack of a treatment policy. If a white government behaved that way, says Gray, "there would be a revolution." Costa Gazi, health secretary of the Pan African Congress, who has harshly criticized the ruling African National Congress's AIDS policies, says the country owes a "massive debt" to Gray and McIntyre.
Walking through the waiting room, McIntyre pauses to look at the apartheid-era warning that everyone will be tested for AIDS. "We really should take that down," he says. And he worries that they may run out of anti-HIV drugs one day and have to take down the sign they have taped to the wall, too.
---
* Jon Cohen was accompanied by photographer Malcolm Linton. For a gallery of additional photos and the stories behind them, see www.sciencemag.org/feature/data/aids_africa/gallery.shl.


Volume 288, Number 5474, Issue of 23 Jun 2000, p. 2163.
Copyright © 2000 by The American Association for the Advancement of Science.