PROFILE:
An Ambassador of Research
Jon Cohen
*
Photos by Malcolm Linton
NAIROBI, KENYA--Elizabeth Ngugi sits on a well-worn mattress surrounded by prostitutes in a downtown brothel. "We feel great love for this woman," says one of the dozen prostitutes who have jammed onto the three beds in the room to meet with Ngugi (pronounced en-goog-ee), a dignified woman who declines to give her age but who clearly has seen it all. "I know I would never be alive today without her."
Indeed, without Ngugi, the collaborative AIDS research program based at the University of Nairobi may not have survived either. Ngugi, who joined the collaboration as a nurse in 1984 and went on to earn a Ph.D. in social work at the University of Washington, Seattle, plays a role that is crucial for many AIDS projects throughout Africa--but one that seldom receives credit in scientific circles. Like an ambassador of research, Ngugi connects ostracized communities that have little education and even less money to an international team of AIDS scientists that would like to follow them over time, learning the most intimate details about their sexual practices, their jobs and families, and, of course, their diseases. "With any infectious disease, you have to go where the prevalence is the highest in order to make a difference," says Ngugi. "To make a difference with malaria, you have to go where the mosquito is breeding."
The University of Manitoba's Frank Plummer, the de facto head of the collaboration, says the pathbreaking studies this group has done with these sex workers would have been impossible without Ngugi's help. "She's a public health phenomenon," says Plummer. "She understands the country. She understands the values. And she's always reinforced that you can't just study things--you have to do something about it."
---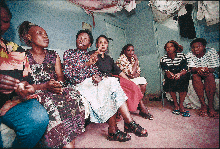 Sisterhood is powerful. Elizabeth Ngugi (center) helps women help themselves at a Nairobi brothel.

---
In exchange for participating in studies, these women receive checkups by top-notch doctors, as well as free condoms, treatments for sexually transmitted diseases (STDs), and Ngugi's news from the front about the latest weapons to combat HIV. Today, Ngugi speaks with the women about the female condom, a vaginal pouch that protects against HIV transmission but has a reputation, deserved or not, of being bulky and cumbersome. The women, holding six conversations at once, quiet down when Ngugi takes the hand of a woman wearing a colorful scarf on her head. "Let her tell her story," says Ngugi. "It's beautiful."
Prostitutes often receive offers of extra money if they do not require a man to wear a condom (a sure sign, these women say, that the man is infected). The woman wearing the scarf explains how she used a female condom that Ngugi gave her to turn the tables on a customer. "Men never know you have anything in there," the woman explains. "A few days ago, a man came and wanted to have sex, and he had never used a condom at all. I said, 'Wait, are you willing to pay more money?' " So the man paid extra, not realizing that she had on a condom. Ngugi and the other women have a good laugh. "Let's not get rid of the male condom, but let's empower women and give them something to negotiate safe sex [with]," Ngugi declares.
Ngugi says the work she and her colleagues do "has paid off in bigger ways than we can measure." But in one area--reducing the disease burden on the prostitutes she works with--there's at least an indirect measure of her success: "People say if we want to study STDs," Ngugi notes, "we have to go where you're not."
---
* Jon Cohen was accompanied by photographer Malcolm Linton. For a gallery of additional photos and the stories behind them, see www.sciencemag.org/feature/data/aids_africa/gallery.shl.


Volume 288, Number 5474, Issue of 23 Jun 2000, p. 2162.
Copyright © 2000 by The American Association for the Advancement of Science.