PROFILE:
Restarting Rwanda's Research Engine
Jon Cohen
*
Photos by Malcolm Linton
KIGALI, RWANDA--When Etienne Karita left here in 1993 to study at the University of Brussels in Belgium, the AIDS research community in Rwanda was booming. Karita worked with a French-Belgian collaboration conducting large studies of mother-to-child transmission of HIV; a project run by researchers from Johns Hopkins University in Baltimore, Maryland, was carrying out similar studies; scientists from the University of California, San Francisco (UCSF), were investigating the course of the disease in infected people and the factors that aid heterosexual transmission of the virus; and the World Health Organization had selected Rwanda as one of four developing countries best prepared to stage efficacy trials of AIDS vaccines. "There were very good collaborations with Rwandan doctors," remembers Karita. "It was a spirit of teamwork that was beautiful."
---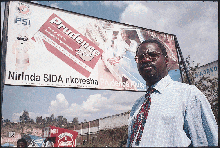 Kigali can-do. Etienne Karita is restoring science to his war-torn country.

---
But in April 1994, ethnic tensions between Rwanda's Hutus and Tutsis erupted into one of the greatest atrocities of the late 20th century, a genocidal rampage that killed an estimated 800,000 people during 100 days of terror. When Karita returned home in July, he learned that both his parents and eight of his 10 siblings had been killed. His wife, who had remained in Kigali with their daughter, was shot in the leg but survived by hiding above a ceiling panel. "People were massacred without any defense," says Karita, his rage about the world's inaction accentuated by his quiet tone.
Expatriate AIDS researchers fled the country shortly before the killings started, untold numbers of Rwandan AIDS researchers disappeared or died, and looters wantonly destroyed labs. One of Africa's most vibrant scientific communities suddenly vanished.
Karita took his wife and daughter back with him to Brussels, where in November 1995 he completed a master's program in molecular biology with Peter Piot, now the head of UNAIDS. "He's a brilliant guy," says Piot. "He could definitely have stayed in Belgium and had a quiet academic career."
But Karita opted to go home. "The idea I had in mind was, 'What can I do to help Rwanda rebuild the country?' I considered AIDS a priority." Karita, who was a relatively junior researcher before the genocide, was named head of the country's National AIDS Control Program.
With help from the Luxembourg government, Karita finished construction of a lab that was begun before the genocide, and in July 1997 he became head of the Belgian-funded National Reference Laboratory for Retroviral Infections. Today, this handsome brick lab does most of the HIV testing in Rwanda, and Karita, in collaboration with Dirk van Hove, a Belgian tropical disease specialist who also returned, has begun to restart the country's research engines. "Through it all, he's continued to try and improve his skills and stay abreast of current events in research," says Susan Allen, an AIDS researcher at the University of Alabama, Birmingham, who headed the abandoned UCSF project in Kigali.
Karita now collaborates with Allen, studying the immunity of people identified by her project who have survived 14 years with the virus, the "long-term nonprogressors." The United Nations Children's Fund and the Pediatric AIDS Foundation also have awarded him grants to start testing and treating infected mothers to prevent them from passing HIV to their babies.
But the research engine is still missing critical parts. Few Rwandan doctors have time to do research, says Karita. International donors fear investing in the country, too. Still, Allen is preparing a new grant proposal for the National Institutes of Health. And at each AIDS meeting Karita attends, he finds a few more potential collaborators. Says Karita: "As we're moving ahead, more and more people are starting to get interested."
---
* Jon Cohen was accompanied by photographer Malcolm Linton. For a gallery of additional photos and the stories behind them, see www.sciencemag.org/feature/data/aids_africa/gallery.shl.


Volume 288, Number 5474, Issue of 23 Jun 2000, p. 2158.
Copyright © 2000 by The American Association for the Advancement of Science.